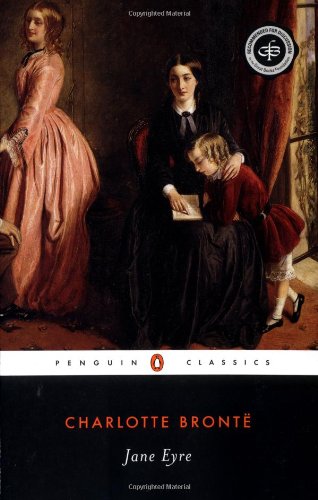 Goodreads says:
Orphaned as a child, Jane has felt an outcast her whole young life. Her courage is tested once again when she arrives at Thornfield Hall, where she has been hired by the brooding, proud Edward Rochester to care for his ward Adèle. Jane finds herself drawn to his troubled yet kind spirit. She falls in love. Hard.
But there is a terrifying secret inside the gloomy, forbidding Thornfield Hall. Is Rochester hiding from Jane? Will Jane be left heartbroken and exiled once again?
Waterstones says:
The orphaned Jane Eyre is no beauty but her plain appearance belies an indomitable spirit, sharp wit and great courage. As a child she suffers under cruel guardians, harsh schooling and a rigid social order but when she goes to Thornfield Hall to work as a governess for the mysterious Mr Rochester, the stage is set for one of literature's most enduring romances. A beloved classic and undisputed masterpiece, Charlotte Bronte's Jane Eyre explores class, society, love and religion through the eyes of one of fiction's most unique and memorable female protagonists.This beautiful Macmillan Collector's Library edition features an afterword by Sam Gilpin.Designed to appeal to the booklover, the Macmillan Collector's Library is a series of beautiful gift editions of much loved classic titles. Macmillan Collector's Library are books to love and treasure.
---
---
About Charlotte Brontë
Charlotte Brontë was a British novelist, the eldest out of the three famous Brontë sisters whose novels have become standards of English literature. See also Emily Brontë and Anne Brontë.

Charlotte Brontë was born in Thornton, Yorkshire, England, the third of six children, to Patrick Brontë (formerly "Patrick Brunty"), an Irish Anglican clergyman, and his wife, Maria Branwell. In April 1820 the family moved a few miles to Haworth, a remote town on the Yorkshire moors, ...
[Read more about Charlotte Brontë]
---
Search for another book
---