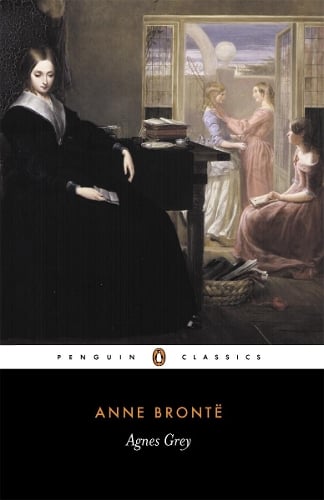 Goodreads says:
Agnes Grey is the touching story of a young girl who decides to enter the world as a governess, but whose bright illusions of acceptance, freedom and friendship are gradually destroyed.

Drawing on her own experience, Anne Brontë charts the development of gentle Agnes and sympathetically depicts the harsh treatment she receives along the way. Leaving her idyllic home and close-knit family, Agnes arrives at the Bloomfield's residence, inside whose walls reign cruelty and neglect. Although faced with tyrannical children and over-indulgent parents, the generosity of spirit and warm candour learnt from her own family never desert her. Agnes also remains firm in the Murray household, where she is used by the two disdainful young daughters for their own deceitful ends and where her chances of happiness are almost spoiled for her.
A deeply moving account, Agnes Grey seriously discusses the contempt and inhumanity shown towards the poor though educated woman of the Victorian age, whose only resource was to become a governess.
Waterstones says:
WITH AN INTRODUCTION BY SAMANTHA ELLIS When Agnes's father loses the family savings, young Agnes determines to make her own living - as a governess. Working for the Bloomfields, her enthusiasm is soon dampened by isolation and the cruelty of the children in her charge. Agnes hopes for better in her second job, but when the scheming elder daughter Rosalie makes designs on Agnes's new friend, the kind curate Mr Weston, she feels herself silenced and sidelined. Becoming a governess is one thing, becoming invisible is quite another.
---
---
About Anne Brontë
Anne Brontë was a British novelist and poet, the youngest member of the Brontë literary family. Anne's two novels, written in a sharp and ironic style, are completely different from the romanticism followed by her sisters, Emily Brontë and Charlotte Brontë. She wrote in a realistic, rather than a romantic style. Mainly because the re-publication of The Tenant of Wildfell Hall was prevented by Charlotte Brontë after Anne's death, she is less known than her sisters. However, her novels, like ...
[Read more about Anne Brontë]
---
Search for another book
---