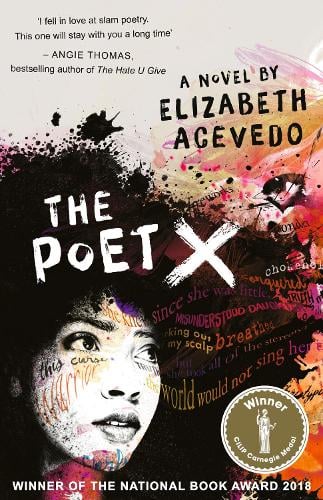 Goodreads says:
A young girl in Harlem discovers slam poetry as a way to understand her mother's religion and her own relationship to the world. Debut novel of renowned slam poet Elizabeth Acevedo.Xiomara Batista feels unheard and unable to hide in her Harlem neighborhood. Ever since her body grew into curves, she has learned to let her fists and her fierceness do the talking.But Xiomara has plenty she wants to say, and she pours all her frustration and passion onto the pages of a leather notebook, reciting the words to herself like prayers—especially after she catches feelings for a boy in her bio class named Aman, who her family can never know about. With Mami's determination to force her daughter to obey the laws of the church, Xiomara understands that her thoughts are best kept to herself.So when she is invited to join her school's slam poetry club, she doesn't know how she could ever attend without her mami finding out, much less speak her words out loud. But still, she can't stop thinking about performing her poems.Because in the face of a world that may not want to hear her, Xiomara refuses to be silent.
Waterstones says:
Shortlisted for the Waterstones Children's Book Prize 2019

Shortlisted for the CILIP Carnegie Medal 2019

Winner of the 2018 National Book Award

Xiomara has always kept her words to herself.

When it comes to standing her ground in her Harlem neighbourhood, she lets her fists and her fierceness do the talking. But X has secrets - her feelings for a boy in her bio class, and the notebook full of poems that she keeps under her bed. And a slam poetry club that will pull those secrets into the spotlight. Because in spite of a world that might not want to hear her, Xiomara refuses to stay silent.

A novel about finding your voice and standing up for what you believe in, no matter how hard it is to say. Brave, bold and beautifully written - dealing with issues of race, feminism and faith - this is perfect for fans of Orangeboy and Everything Everything, The Children of Blood and Bone, The Hate U Give and One.

Elizabeth Acevedo was born and raised in New York City and her poetry is infused with Dominican bolero and her beloved city's tough grit. The Poet X is her debut novel. With over twelve years of performance experience, Acevedo has delivered several TED Talks. Acevedo is a National Slam Champion, Beltway Grand Slam Champion, and the 2016 Women of the World Poetry Slam representative for Washington, D.C, where she lives and works.
---
---
About Elizabeth Acevedo
ELIZABETH ACEVEDO is the youngest child and only daughter of Dominican immigrants. She holds a BA in Performing Arts from the George Washington University and an MFA in Creative Writing from the University of Maryland. With over fourteen years of performance poetry experience, Acevedo is a National Poetry Slam Champion, Cave Canem Fellow, CantoMundo Fellow, and participant of the Callaloo Writer's Workshop. She has two collections of poetry, Beastgirl & Other Origin Myths (YesYes Books, 2016...
[Read more about Elizabeth Acevedo]
---
Search for another book
---