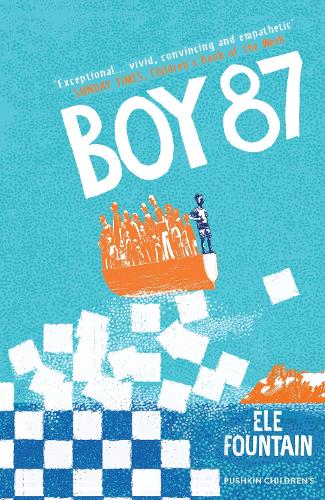 Goodreads says:
Shif is just an ordinary schoolboy who loves chess and playing with his best friend. But, one day, he is forced to leave home to avoid conscription into the army. He embarks on an epic journey, in which he encounters dangers and cruelties - and great acts of human kindness - as he bravely makes his way to a future he can only imagine.Told in the powerful first person, this startling debut novel will encourage understanding and empathy in young readers, and allow the news headlines of the day to resonate with the humanity involved in creating them.
Waterstones says:
Shortlisted for the Waterstones Children's Book Prize 2019

Shif is just an ordinary boy who likes chess, maths and racing his best friend home from school.

But one day, soldiers with guns come to his door - and he knows that he is no longer safe. Shif is forced to leave his mother and little sister,and embark on a dangerous journey; a journey through imprisonment and escape, new lands and strange voices, and a perilous crossing by land and sea. He will encounter cruelty and kindness; he will become separated from the people he loves.

Boy 87 is a gripping, uplifting tale of one boy's struggle for survival; it echoes the story of young people all over the world today.
---
---
About Ele Fountain
...
[Read more about Ele Fountain]
---
Search for another book
---