Love for Imperfect Things: How to Accept Yourself in a World Striving for Perfection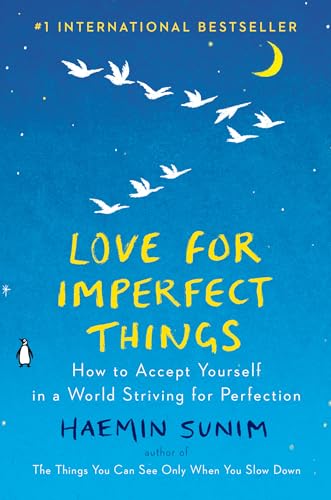 A #1 internationally bestselling book of spiritual wisdom about learning to love ourselves, with all our imperfections, by the Buddhist author of The Things You Can See Only When You Slow Down.

When you care for yourself first, the world begins to find you worthy of care.

No one is perfect, but that shouldn't hold us back from love--for the world, for one another, or even for ourselves. In this beautifully illustrated guide, Buddhist teacher Haemin Sunim (whose name means "spontaneous wisdom") draws on examples from his own life and on his years of helping others to introduce us to the art of self-care. When we treat ourselves with compassion, empathy, and forgiveness, we learn to treat others the same way, allowing us to connect with people on a deeper level, bounce back from failure, deal with feeling hurt or depressed, listen more attentively, express ourselves more clearly, and have the courage to pursue what really makes us happy so we can feel complete in ourselves. With more than thirty-five full-color illustrations, Love for Imperfect Things will appeal to both your eyes and your heart, offering you comfort, encouragement, and wisdom so that you can learn to love yourself, your life, and everyone in it.
---
---
About Haemin Sunim
Haemin Sunim is one of the most influential Zen Buddhist teachers and writers in South Korea, where his books have sold more than three million copies and are popular as guides not only to mediation but also to overcoming the challenges of everyday life.

Born in South Korea, he came to the United States to study film, only to find himself pulled into the spiritual life. Educated at UC Berkeley, Harvard, and Princeton, he received formal monastic training in Korea and taught Buddhism ...
[Read more about Haemin Sunim]
---
Search for another book
---