The Boy At the Back of the Class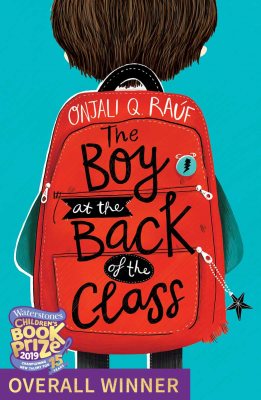 Goodreads says:
There used to be an empty chair at the back of my class, but now a new boy called Ahmet is sitting in it.He's eight years old (just like me), but he's very strange. He never talks and never smiles and doesn't like sweets - not even lemon sherbets, which are my favourite!But the truth is, Ahmet really isn't very strange at all. He's a refugee who's run away from a War. A real one. With bombs and fires and bullies that hurt people. And the more I find out about him, the more I want to be his friend.That's where my best friends Josie, Michael and Tom come in. Because you see, together we've come up with a plan.
Waterstones says:
Overall Winner of the Waterstones Children's Book Prize 2019

Waterstones Children's Book of the Month for April 2019

A story of friendship, hope and the importance of kindness, The Boy at the Back of the Class is a story full of heart and humour, told from a unique perspective. Featuring illustrations from Pippa Curnick, this is an exceptional book by an emerging voice in children's writing.

When a new boy joins their class, a group of children try to befriend him. They soon learn that Ahmet is a refugee and has been separated from his family. None of the grown-ups seem to be able to help him, so the friends come up with a daring plan, embarking on an extraordinary adventure.

Onjali Q. Raúf is Founder and CEO of the London based human rights organisation Making Herstory, working in partnership with other movements to end the abuse, trafficking and enslavement of women and girls in the UK and beyond. Based in part on the stories she encountered when working in refugee camps, The Boy at the Back of the Class is a remarkable debut that deserves to be ranked as a modern classic.

Shortlisted for the Blue Peter Book Award 2019

"In this future classic, Raúf has distilled what it means to be a genuine and positive person into a story that sparkles with kindness, humour and curiosity. Her characters step out of the book with a warm smile, fully-formed as role models for everyday life, ready to take you on an ambitious adventure which is both fun and exceptionally gripping. Children's books have a raft of difficult topics to convey to young readers, and Raúf embraces this with an approach that is funny, upbeat and overwhelmingly open-hearted." - Florentyna Martin, Waterstones Children's Buyer

Published on Thursday 3 October, Onjali Q. Raúf's brilliant second novel, The Star Outside My Window is available to pre-order now, signed by the author.
---
---
About Onjali Q. Rauf
...
[Read more about Onjali Q. Rauf]
---
Search for another book
---