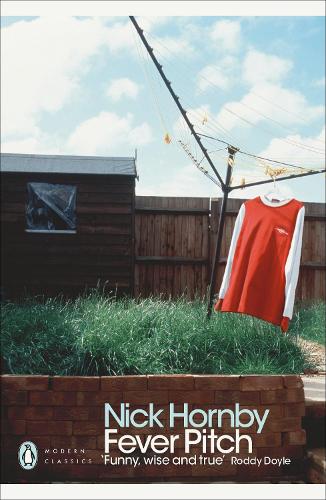 Goodreads says:
In America, it is soccer. But in Great Britain, it is the real football. No pads, no prayers, no prisoners. And that's before the players even take the field.Nick Hornby has been a football fan since the moment he was conceived. Call it predestiny. Or call it preschool. Fever Pitch is his tribute to a lifelong obsession. Part autobiography, part comedy, part incisive analysis of insanity, Hornby's award-winning memoir captures the fever pitch of fandom — its agony and ecstasy, its community, its defining role in thousands of young mens' coming-of-age stories. Fever Pitch is one for the home team. But above all, it is one for everyone who knows what it really means to have a losing season.
Waterstones says:
I fell in love with football as I was later to fall in love with women: suddenly, inexplicably, uncritically, giving no thought to the pain or disruption it would bring with it.

Arguably the book which reinvigorated the football writing genre, Nick Hornby's Fever Pitch is the wonderful story of a child's love affair with the game and, in Hornby's particular case, the sole object of his affection, Arsenal Football Club.

Hornby's love affair began the first time his father took him to Highbury to watch the 'Gunners' and took him through all the emotions associated with football fandom. Pain, hope, adoration, blind loyalty and of course deep, deep disappointment are here but scattered amongst these are a few moments of sheer pleasure, which any football fan will tell you makes it all worthwhile.

Hornby's relationship with Arsenal and football is a defining one throughout his life and colours all his other relationships.

A brilliant study of Football's hold on many, skilfully crafted by one of our finest writers.
---
---
About Nick Hornby
Nick Hornby is the author of the novels A Long Way Down, Slam, How to Be Good, High Fidelity, and About a Boy, and the memoir Fever Pitch. He is also the author of Songbook, a finalist for a National Book Critics Circle Award, Shakespeare Wrote for Money, and The Polysyllabic Spree, as well as the editor of the short-story collection Speaking with the Angel. He is a recipient of the American Academy of Arts and Letters' E. M. Forster Award and the winner of the 2003 Orange Word International W...
[Read more about Nick Hornby]
---
Search for another book
---