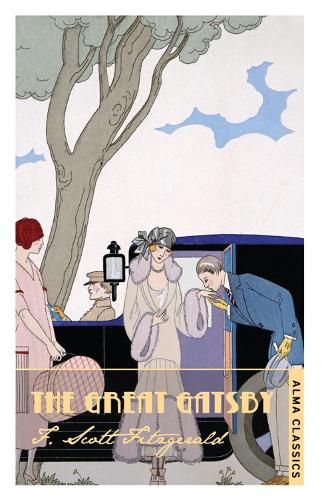 Goodreads says:
Alternate Cover Edition ISBN: 0743273567 (ISBN13: 9780743273565)

The Great Gatsby, F. Scott Fitzgerald's third book, stands as the supreme achievement of his career. This exemplary novel of the Jazz Age has been acclaimed by generations of readers. The story is of the fabulously wealthy Jay Gatsby and his new love for the beautiful Daisy Buchanan, of lavish parties on Long Island at a time when The New York Times noted "gin was the national drink and sex the national obsession," it is an exquisitely crafted tale of America in the 1920s.

The Great Gatsby is one of the great classics of twentieth-century literature.
(back cover)
Waterstones says:
Invited to an extravagantly lavish party in a Long Island mansion, Nick Carraway, a young bachelor who has just settled in the neighbouring cottage, is intrigued by the mysterious host, Jay Gatsby, a flamboyant but reserved self-made man with murky business interests and a shadowy past. As the two men strike up an unlikely friendship, details of Gatsby's impossible love for amarried woman emerge, until events spiral into tragedy. Regarded as Fitzgerald's masterpiece and one of the greatest novels of American literature, The Great Gatsby is a vivid chronicle of the excesses and decadence of the Jazz Age, as well as a timeless cautionary critique of the American dream.
---
---
About F. Scott Fitzgerald
Francis Scott Key Fitzgerald was an American writer of novels and short stories, whose works have been seen as evocative of the Jazz Age, a term he himself allegedly coined. He is regarded as one of the greatest twentieth century writers. Fitzgerald was of the self-styled "Lost Generation," Americans born in the 1890s who came of age during World War I. He finished four novels, left a fifth unfinished, and wrote dozens of short stories that treat themes of youth, despair, and age. He w...
[Read more about F. Scott Fitzgerald]
---
Search for another book
---