Postscript (P.S. I Love You, #2)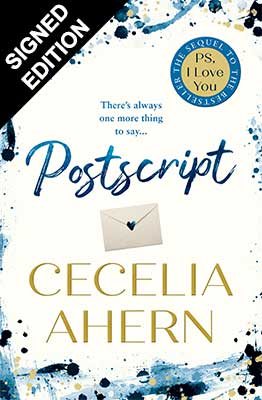 Goodreads says:
It's been seven years since Holly Kennedy's husband died – six since she read his final letter, urging Holly to find the courage to forge a new life. She's proud of all the ways in which she has grown and evolved. But when a group inspired by Gerry's letters, calling themselves the PS, I Love You Club, approaches Holly asking for help, she finds herself drawn back into a world that she worked so hard to leave behind. Reluctantly, Holly begins a relationship with the club, even as their friendship threatens to destroy the peace she believes she has achieved. As each of these people calls upon Holly to help them leave something meaningful behind for their loved ones, Holly will embark on a remarkable journey – one that will challenge her to ask whether embracing the future means betraying the past, and what it means to love someone forever…
Waterstones says:
Pre-order the long-awaited sequel to the bestselling PS, I Love You now!

"We desperately need your help Holly. We're running out of ideas and..." She takes a breath in as if summoning the energy, '"ll of us are running out of time."

When Holly Kennedy is approached by a group calling themselves the PS, I Love You Club, her safe existence is turned on its head. Inspired by hearing about her late husband Gerry's letters, the club wants Holly to help them with their own parting messages for their loved ones to discover after they're gone.

Holly is sure of one thing - no way is she being dragged back to the grief she has left behind. It's taken seven years to reinvent herself, and she's ready to move on with her life.

But Holly comes to realize that when you love someone, there's always one more thing to say...
---
---
About Cecelia Ahern
Cecelia Ahern was born and grew up in Dublin. She is now published in nearly fifty countries, and has sold over twenty-five million copies of her novels worldwide. Two of her books have been adapted as films and she has created several TV series....
[Read more about Cecelia Ahern]
---
Search for another book
---