The Last Widow (Will Trent, #9)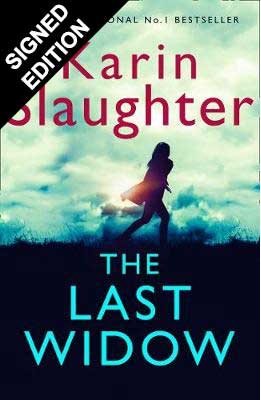 Goodreads says:
New York Times bestselling author Karin Slaughter brings back Will Trent and Sara Linton in this superb and timely thriller full of devious twists, disturbing secrets, and shocking surprises you won't see comingA mysterious kidnappingOn a hot summer night, a scientist from the Centers for Disease Control is grabbed by unknown assailants in a shopping center parking lot. Vanished into thin air, the authorities are desperate to save the doctor. A devastating explosionOne month later, the serenity of a sunny Sunday afternoon is shattered by the boom of a ground-shaking blast—followed by another seconds later. One of Atlanta's busiest and most important neighborhood's has been bombed—the location of Emory University, two major hospitals, the FBI headquarters, and the CDC.A diabolical enemyMedical examiner Sara Linton and her partner Will Trent, an investigator with the Georgia Bureau of Investigation, rush to the scene—and into the heart of a deadly conspiracy that threatens to destroy thousands of innocent lives. When the assailants abduct Sara, Will goes undercover to save her and prevent a massacre—putting his own life on the line for the woman and the country he loves.
Waterstones says:
From the No.1 bestselling author comes a gripping new crime thriller featuring Will Trent and Sara Linton

It begins with an abduction. The routine of a family shopping trip is shattered when Michelle Spivey is snatched as she leaves the mall with her young daughter. The police search for her, her partner pleads for her release, but in the end...they find nothing. It's as if she disappeared into thin air.

A month later, on a sleepy Sunday afternoon, medical examiner Sara Linton is at lunch with her boyfriend Will Trent, an agent with the Georgia Bureau of Investigation. But the serenity of the summer's day is broken by the wail of sirens.

Sara and Will are trained to help in an emergency. Their jobs - their vocations - mean that they run towards a crisis, not away from it. But on this one terrible day that instinct betrays them both. Within hours the situation has spiralled out of control; Sara is taken prisoner; Will is forced undercover. And the fallout will lead them into the Appalachian mountains, to the terrible truth about what really happened to Michelle, and to a remote compound where a radical group has murder in mind...
---
---
About Karin Slaughter
Karin Slaughter is one of the world's most popular and acclaimed storytellers. Published in 120 countries with more than 35 million copies sold across the globe, her eighteen novels include the Grant County and Will Trent books, as well as the Edgar-nominated Cop Town and the instant New York Times bestselling novels Pretty Girls and The Good Daughter. Slaughter is the founder of the Save the Libraries project—a nonprofit organization established to support libraries and library programing. ...
[Read more about Karin Slaughter]
---
Search for another book
---