12 Rules for Life: An Antidote to Chaos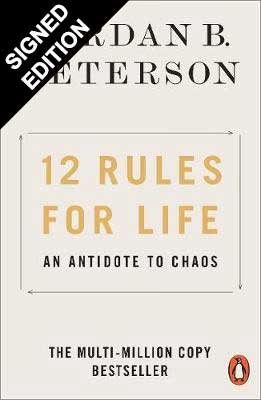 Goodreads says:
The #1 Sunday Times bestseller from 'the most influential public intellectual in the Western world right now' (New York Times) - now in paperback.How should we live properly in a world of chaos and uncertainty?Jordan Peterson has helped millions of people, young and old, men and women, aim at a life of responsibility and meaning. Now he can help you.Drawing on his own work as a clinical psychologist and on lessons from humanity's oldest myths and stories, Peterson offers twelve profound and realistic principles to live by. After all, as he reminds us, we each have a vital role to play in the unfolding destiny of the world.Deep, rewarding and enlightening, 12 Rules for Life is a lifeboat built solidly for stormy seas: ancient wisdom applied to our contemporary problems.
Waterstones says:
The truth is something that burns. It burns off dead wood.

Happiness is a pointless goal. For Jordan B. Peterson, influential clinical psychologist and professor of psychology at the University of Toronto, our true aim should be meaning – not for its own sake, but as a defence against the suffering that is intrinsic to our existence.

12 Rules for Life is a manifesto of personal change, a handbook to rewire our kneejerk beliefs and concepts of reward and truth. At its heart, this is a polemic of personal responsibility, twelve rules that form the scaffolding of profound growth.

Each rule is accompanied by vivid and often footnoted example, setting his thinking in context; the sum is a comprehensive, sometimes almost brutal, assault on everyday assumption.

Not without his critics, the often-outspoken Peterson rails against the world, from our inability to tell the absolute truth to our innate need to embrace high risk.

Declaring himself a "classic British liberal", the author eschews conventional political or social convention to deliver a self-help guide like virtually no other, founded on a dynamic personal philosophy drawn from both academia and experience.

Jordan B. Peterson originally rose to prominence via his rather more academic Maps of Meaning and is now seen as an influential figure on a number of internet platforms, not least his own YouTube series of lectures.
---
---
About Jordan B. Peterson
Jordan B. Peterson is a Canadian clinical psychologist, self-help writer, cultural critic, and professor of psychology at the University of Toronto. His main areas of study are in abnormal, social, and personality psychology, with a particular interest in the psychology of religious and ideological belief, and the assessment and improvement of personality and performance.


Peterson grew up in Fairview, Alberta. He earned a B.A. degree in political science in 1982 and a degree in ...
[Read more about Jordan B. Peterson]
---
Search for another book
---