Black Leopard, Red Wolf (The Dark Star Trilogy, #1)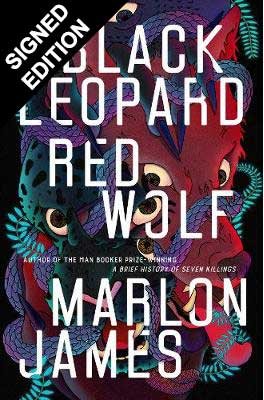 Goodreads says:
Tracker is known far and wide for his skills as a hunter: "He has a nose," people say. Engaged to track down a mysterious boy who disappeared three years earlier, Tracker breaks his own rule of always working alone when he finds himself part of a group that comes together to search for the boy. The band is a hodgepodge, full of unusual characters with secrets of their own, including a shape-shifting man-animal known as Leopard.As Tracker follows the boy's scent--from one ancient city to another; into dense forests and across deep rivers--he and the band are set upon by creatures intent on destroying them. As he struggles to survive, Tracker starts to wonder: Who, really, is this boy? Why has he been missing for so long? Why do so many people want to keep Tracker from finding him? And perhaps the most important questions of all: Who is telling the truth, and who is lying?Drawing from African history and mythology and his own rich imagination, Marlon James has written a novel unlike anything that's come before it: a saga of breathtaking adventure that's also an ambitious, involving read. Defying categorization and full of unforgettable characters, Black Leopard, Red Wolf is both surprising and profound as it explores the fundamentals of truth, the limits of power, and our need to understand them both.
Waterstones says:
'A dangerous, hallucinatory, ancient Africa, which becomes a fantasy world as well-realized as anything Tolkien made, with language as powerful as Angela Carter's. I cannot wait for the next instalment.' - Neil Gaiman

If Marlon James's Man Booker Prize-winning A Brief History of Seven Killings was the herald of an extraordinary talent, Black Leopard, Red Wolf is the undoubted conformation. Unstoppable, blazing in its kinetic binding of story, incident and myth, James's fourth novel leaps on the conventional elements of fantasy and forges something absolutely fresh.

At the heart of the novel stalks Tracker, a figure who can seek and find anything. Told with hallucinatory intent from Tracker's point of view, his bloodied, nightmare quest to find a lost child is a tale of myth within myth. Usually working alone, on this fateful instance Tracker is forced to draw on the help of others, a strange but capable band of misfits. Amongst their number is Leopard, a shapeshifter with whom Tracker shares a complex and savage bond.

Ultimately, their search is less quest than odyssey, its horrors compelling Tracker to question the value of his quarry and his own damaged intent. The first volume in Marlon James's epic Dark Star Trilogy, Black Leopard, Red Wolf is fable for the now, a Beowulf for our darkened century.
---
---
About Marlon James
Marlon James is a Jamaican-born writer. He has published three novels: John Crow's Devil (2005), The Book of Night Women (2009) and A Brief History of Seven Killings (2014), winner of the 2015 Man Booker Prize. Now living in Minneapolis, James teaches literature at Macalester College in St. Paul, Minnesota.

James was born in Kingston, Jamaica, to parents who were both in the Jamaican police: his mother (who gave him his first prose book, a collection of stories by O. Henry) became a d...
[Read more about Marlon James]
---
Search for another book
---