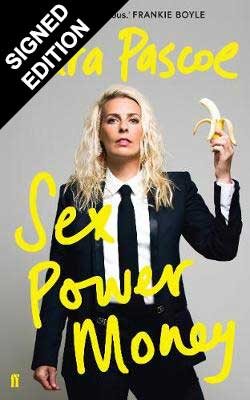 Goodreads says:
Part comedy, part anthropological study, here is everything Sara Pascoe has learned from scientists, sex education teachers, pornographers and '90s films about love, cruelty, domination, masculinity, status, and economic pressures. Is internet porn ruining marriage? 'Mind Rape' isn't a thing, is it?Like her much-loved first book, Animal, Pascoe overthinks and overshares in the name of our entertainment and education. Sex Power Money is a whipsmart, winningly funny look into who - and what - we are, and what makes us tick.
Waterstones says:
Award-winning comedian Sara Pascoe, following her hit book Animal, turns her attention to the things that really matter to humans - sex, power and money.

Deciding to confront her fear of the male libido, Pascoe delves into such questions as: Why don't people care about the welfare of the people they masturbate to? Why is there such stigma around those who work in the sex industry?

In this comedic and educational hopscotch over anatomy, the history of sexual representation and the sticky way all human interactions are underwritten by wealth, Pascoe explores whether we'll ever be able to escape the Conundrum of Heterosexuality if women can't help but admire status, and men obsess about youth and physicality.

Drawing on anecdotal experience, unqualified opinion, interviews and research, Sex Power Money is thought-provoking and riotously funny: a fresh take on the oldest discussion.
---
---
About Sara Pascoe
Sara Patricia Pascoe) is an English comedian and actress. She has appeared on TV programmes such as 8 Out of 10 Cats Does Countdown for Channel 4, and Taskmaster for digital channel Dave.

Twitter @sarapascoe...
[Read more about Sara Pascoe]
---
Search for another book
---