The Taking of Annie Thorne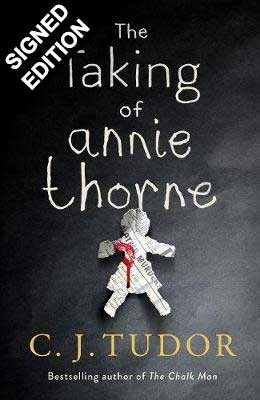 Goodreads says:
The second novel from the author of The Chalk Man, about a teacher with a hidden agenda who returns to settle scores at a school he once attended, only to uncover a darker secret than he could have imagined.
Waterstones says:
One night, Annie went missing. Disappeared from her own bed. There were searches, appeals. Everyone thought the worst. And then, miraculously, after forty-eight hours, she came back. But she couldn't, or wouldn't, say what had happened to her.

Something happened to my sister. I can't explain what. I just know that when she came back, she wasn't the same. She wasn't my Annie.

I didn't want to admit, even to myself, that sometimes I was scared to death of my own little sister.
---
---
About C.J. Tudor
C. J. Tudor was born in Salisbury and grew up in Nottingham, where she still lives with her partner and young daughter.

She left school at sixteen and has had a variety of jobs over the years, including trainee reporter, radio scriptwriter, shop assistant, ad agency copywriter and voiceover.

In the early nineties, she fell into a job as a television presenter for a show on Channel 4 called Moviewatch. Although a terrible presenter, she got to interview acting legends such a...
[Read more about C.J. Tudor]
---
Search for another book
---