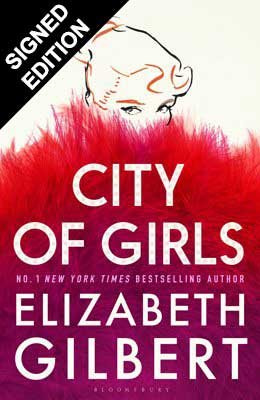 Goodreads says:
"Life is both fleeting and dangerous, and there is no point in denying yourself pleasure, or being anything other than what you are."Beloved author Elizabeth Gilbert returns to fiction with a unique love story set in the New York City theater world during the 1940s. Told from the perspective of an older woman as she looks back on her youth with both pleasure and regret (but mostly pleasure), City of Girls explores themes of female sexuality and promiscuity, as well as the idiosyncrasies of true love.In 1940, nineteen-year-old Vivian Morris has just been kicked out of Vassar College, owing to her lackluster freshman-year performance. Her affluent parents send her to Manhattan to live with her Aunt Peg, who owns a flamboyant, crumbling midtown theater called the Lily Playhouse. There Vivian is introduced to an entire cosmos of unconventional and charismatic characters, from the fun-chasing showgirls to a sexy male actor, a grand-dame actress, a lady-killer writer, and no-nonsense stage manager. But when Vivian makes a personal mistake that results in professional scandal, it turns her new world upside down in ways that it will take her years to fully understand. Ultimately, though, it leads her to a new understanding of the kind of life she craves - and the kind of freedom it takes to pursue it. It will also lead to the love of her life, a love that stands out from all the rest.Now ninety-five years old and telling her story at last, Vivian recalls how the events of those years altered the course of her life - and the gusto and autonomy with which she approached it. "At some point in a woman's life, she just gets tired of being ashamed all the time," she muses. "After that, she is free to become whoever she truly is." Written with a powerful wisdom about human desire and connection, City of Girls is a love story like no other.
Waterstones says:
Signed Edition

It is the summer of 1940.

Nineteen-year-old Vivian Morris arrives in New York with her suitcase and sewing machine, exiled by her despairing parents. Although her quicksilver talents with a needle and commitment to mastering the perfect hair roll have been deemed insufficient for her to pass into her sophomore year of Vassar, she soon finds gainful employment as the self-appointed seamstress at the Lily Playhouse, her unconventional Aunt Peg's charmingly disreputable Manhattan revue theatre. There, Vivian quickly becomes the toast of the showgirls, transforming the trash and tinsel only fit for the cheap seats into creations for goddesses.

Exile in New York is no exile at all: here in this strange wartime city of girls, Vivian and her girlfriends mean to drink the heady highball of life itself to the last drop. And when the legendary English actress Edna Watson comes to the Lily to star in the company's most ambitious show ever, Vivian is entranced by the magic that follows in her wake. But there are hard lessons to be learned, and bitterly regrettable mistakes to be made. Vivian learns that to live the life she wants, she must live many lives, ceaselessly and ingeniously making them new.

'At some point in a woman's life, she just gets tired of being ashamed all the time. After that, she is free to become whoever she truly is,' she confides. And so Vivian sets forth her story, and that of the women around her - women who have lived as they truly are, out of step with a century that could never quite keep up with them.
---
---
About Elizabeth Gilbert

Elizabeth Gilbert is an award-winning writer of both fiction and non-fiction. Her short story collection Pilgrims was a finalist for the PEN/Hemingway award, and her novel Stern Men was a New York Times notable book. Her 2002 book The Last American Man was a finalist for both the National Book Award and the National Book Critic's Circle Award.

Her memoir, Eat, Pray, Love, spent 57 weeks in the #1 spot on the New York Times paperback bestseller list. It has shipped over 6 mill...
[Read more about Elizabeth Gilbert]
---
Search for another book
---