The Seven Deaths of Evelyn Hardcastle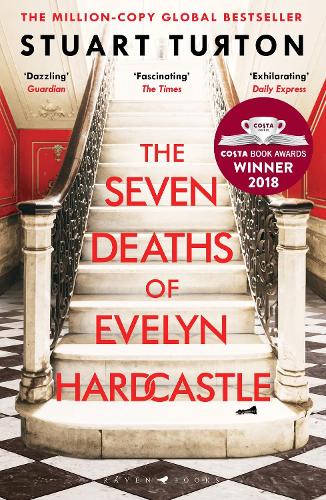 Goodreads says:
The Rules of BlackheathEvelyn Hardcastle will be murdered at 11:00 p.m. There are eight days, and eight witnesses for you to inhabit. We will only let you escape once you tell us the name of the killer. Understood? Then let's begin...Evelyn Hardcastle will die. Every day until Aiden Bishop can identify her killer and break the cycle. But every time the day begins again, Aiden wakes up in the body of a different guest. And some of his hosts are more helpful than others...The most inventive debut of the year twists together a mystery of such unexpected creativity it will leave readers guessing until the very last page.
Waterstones says:
Longlisted for the Theakston Old Peculier Crime Novel of the Year 2019

Winner of the Costa First Novel Award 2018

Waterstones Thriller of the Month for October 2018

Described as Gosford Park meets Inception, by way of Agatha Christie's Murder on the Orient Express, this is a novel unlike any other. One of the most highly-anticipated debuts of 2018, The Seven Deaths of Evelyn Hardcastle merges the glamour and intrigue of classic murder mystery tropes with an innovative, chinese box narrative that leaves the reader guessing until the very end. A brilliantly original high concept murder mystery from a fantastic new talent

Somebody's going to be murdered at the ball tonight. It won't appear to be a murder and so the murderer won't be caught. Rectify that injustice and I'll show you the way out.'

It is meant to be a celebration but it ends in tragedy. As fireworks explode overhead, Evelyn Hardcastle, the young and beautiful daughter of the house, is killed. But Evelyn will not die just once.

Until Aiden - one of the guests summoned to Blackheath for the party - can solve her murder, the day will repeat itself, over and over again. Every time ending with the fateful pistol shot.

The only way to break this cycle is to identify the killer. But each time the day begins again, Aiden wakes in the body of a different guest. And someone is determined to prevent him ever escaping Blackheath...

'Original', 'unique', 'fiendishly clever' and 'remarkable': critics have been knocked for six by Stuart Turton's mind-blowing take on the country house thriller. The setup – a murder, a set of assembled guests – seems familiar, but the execution is anything but. Simply unmissable.
---
---
About Stuart Turton
Stuart lives in London with his amazing wife and daughter. He drinks lots of tea.

What else?

​When he left university he went travelling for three months and stayed away for five years. Every time his parents asked when he'd be back he told them next week, and meant it.

Stuart is not to be trusted. In the nicest possible way.

He's got a degree in English and Philosophy, which makes him excellent at arguing and terrible at choosing degrees.
[Read more about Stuart Turton]
---
Search for another book
---