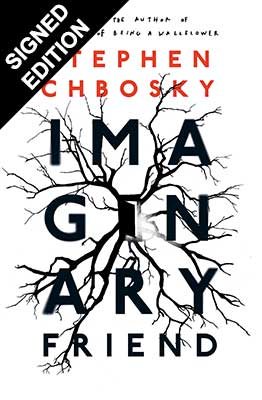 Goodreads says:
Christopher is seven years old. Christopher is the new kid in town. Christopher has an imaginary friend.Single mother Kate Reese is on the run. Determined to improve life for her and her son, Christopher, she flees an abusive relationship in the middle of the night with Christopher at her side. Together, they find themselves drawn to the tight-knit community of Mill Grove, Pennsylvania. It's as far off the beaten track as they can get. Just one highway in, one highway out.At first, it seems like the perfect place to finally settle down. Then Christopher vanishes. For six awful days, no one can find him. Until Christopher emerges from the woods at the edge of town, unharmed but not unchanged. He returns with a voice in his head only he can hear, with a mission only he can complete: Build a tree house in the woods by Christmas, or his mother and everyone in the town will never be the same again.Soon Kate and Christopher find themselves in the fight of their lives, caught in the middle of a war playing out between good and evil, with their small town as the battleground.The epic work of literary horror from the #1 bestselling author of THE PERKS OF BEING A WALLFLOWER.
Waterstones says:
Signed Edition

An epic literary event twenty years in the making: the new novel from Stephen Chbosky - author of multi-million copy sensation The Perks of Being a Wallflower.

Kate Reese is a single mother fleeing an abusive relationship by starting over in a new town, with her young son Christopher. But Mill Grove, Pennsylvania, is not the safe place they thought it would be...

Their world begins to unravel after Christopher vanishes into the Mission Street Woods - where 50 years earlier an eerily similar disappearance occurred. When he emerges six days later, unharmed but not unchanged, he brings with him a secret: a voice only he can hear and a warning of tragedy to come.

What follows is a moving, thrilling, chilling modern masterpiece - a work of towering imagination and emotional depth which unfolds on an epic canvas.
---
---
About Stephen Chbosky
Stephen Chbosky grew up in Pittsburgh, Pennsylvania, and graduated from the University of Southern California's Filmic Writing Program. His first film, The Four Corners of Nowhere, premiered at the 1995 Sundance Film Festival and went on to win Best Narrative Feature honors at the Chicago Underground Film Festival.

He is the recipient of the Abraham Polonsky Screenwriting Award for his screenplay Everything Divided as well as a participant in the Sundance Institute's filmmakers' lab ...
[Read more about Stephen Chbosky]
---
Search for another book
---