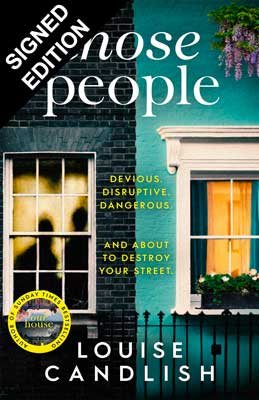 Goodreads says:
From the internationally bestselling author of Our House, a new addictive novel of domestic suspense that dives into the world of suburban neighborhood drama and asks, "Could your neighbor make you angry enough to kill?"Lowland Way is the epitome of the suburban dream. Every house and yard is carefully maintained for maximum curb appeal, and everyone knows one another and gets along. One homeowner, Sissy Watkins, runs a successful B and B from her house. Two brothers and their families live next door to each other. It's the picture-perfect neighborhood.When Darren Booth and his girlfriend, Jodie, move in across from Sissy, it doesn't take long for them to begin making trouble. They're loud, rude, messy, and don't play by the community rules. They blast music at all hours and have started an unsightly renovation on their house. Before long, guests don't want to stay at Sissy's B and B, and everyone is fed up with the new neighbors.An all-out war is brewing on Lowland Way. When a person is killed, accusations start flying. Someone is dead, and everyone has something to hide....
Waterstones says:
Signed edition with exclusive sprayed edges, plus bonus short story.

Could you hate your neighbour enough to plot to kill him?

Until Darren Booth moves in at number 1, Lowland Way, the neighbourhood is a suburban paradise. But soon after his arrival, disputes over issues like loud music and parking rights escalate all too quickly to public rows and threats of violence.

Then, early one Saturday, a horrific crime shocks the street. As the police go house-to-house, the residents close ranks and everyone's story is the same: Booth did it.

But there's a problem. The police don't agree with them.
---
---
About Louise Candlish
'A superb thriller' Washington Post on OUR HOUSE

Hello! I'm the author of thirteen novels, including OUR HOUSE, a #1 bestseller in paperback, ebook and audio and winner of the British Book Awards 2019 Book of the Year - Crime & Thriller. My newest release is THOSE PEOPLE, which is in the same thriller or 'suburban noir' genre and reached #2 on the Sunday Times bestseller lists.

Before writing fiction, I studied English at University College London and worked as an illus...
[Read more about Louise Candlish]
---
Search for another book
---