The True Queen (Sorcerer to the Crown #2)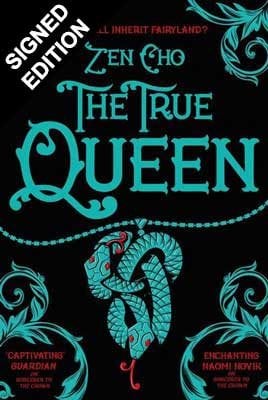 Goodreads says:
In the follow-up to the "delightful" Regency fantasy novel (NPR.org) Sorcerer to the Crown, a young woman with no memories of her past finds herself embroiled in dangerous politics in England and the land of the fae.When sisters Muna and Sakti wake up on the peaceful beach of the island of Janda Baik, they can't remember anything, except that they are bound as only sisters can be. They have been cursed by an unknown enchanter, and slowly Sakti starts to fade away. The only hope of saving her is to go to distant Britain, where the Sorceress Royal has established an academy to train women in magic. If Muna is to save her sister, she must learn to navigate high society, and trick the English magicians into believing she is a magical prodigy. As she's drawn into their intrigues, she must uncover the secrets of her past, and journey into a world with more magic than she had ever dreamed.
Waterstones says:
Fairyland's future lies in doubt . . .

The enchanted island of Janda Baik, in the Malay Archipelago, has long been home to witches. And Muna and her sister Sakti wake on its shores under a curse, which has quite stolen away their memories. Their only hope of salvation lies in distant Britain, where the Sorceress Royal runs a controversial academy for female magicians. But the pair travel via the formidable Fairy Queen's realm, where Sakti simply disappears.

To save her sister, Muna must learn to navigate Regency London's high society and trick the English into believing she's a magical prodigy. But when the Sorceress Royal's friends become accidentally embroiled in a plot - involving the Fairy Queen's contentious succession - Muna is drawn right in. She must also find Sakti, break their curse and somehow stay out of trouble. But if fairyland's true queen does finally return, trouble may find her first . . .

The True Queen is Zen Cho's spelling binding second book. It's set in a sparkling version of Regency London, with a fairy tale twist. And although it's set in the same world as her award-winning novel, Sorcerer to the Crown, this reads as a standalone.
---
---
About Zen Cho
I'm a Malaysian fantasy writer based in London. I've written a novel called Sorcerer to the Crown about magic, intrigue and politics in Regency London, and a short story collection called Spirits Abroad. Plus some other stuff! I've won a British Fantasy Award for Best Newcomer and the Crawford Fantasy Award, and been nominated for a Locus Award and the Campbell Award for Best New Writer. Find out more about my work here: http://zencho.org...
[Read more about Zen Cho]
---
Search for another book
---