How Winston Delivered Christmas: A Christmas story in twenty-four-and-a-half chapters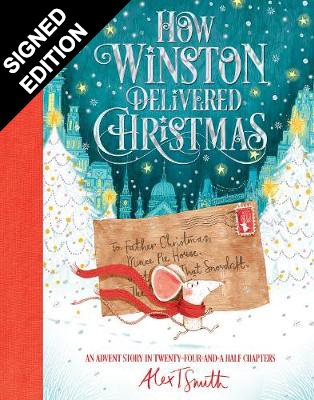 Goodreads says:
An advent story told in twenty-four-and-a-half chapters! When a mouse named Winston finds a lost letter addressed to Santa Claus on Christmas Eve, he sets off an unforgettable journey to personally deliver the letter to Santa! How Winston Delivered Christmas is a heart-warming story, organized in twenty-four and a half chapters, to share during the countdown to Christmas. Starting on December 1st, children can read a chapter a day, and each chapter is followed with a fun and festive holiday activity to complete. This illustrated advent story tells of the adventures of an adorable mouse and how a good deed can lead to a very happy ending. 
Waterstones says:
How Winston Delivered Christmas by Alex T. Smith is a festive book written in 24 & 1/2 chapters - one to share every day leading up to Christmas.

Follow Winston the mouse as he sets out to deliver Oliver's letter to Father Christmas on Christmas Eve. He has a lot of Very Exciting Adventures on this Very Important Mission and makes some wonderful friends along the way.

Like an advent calendar counting down to Christmas, each day also features festive things to make and do - you can write a letter to Father Christmas and make mince pies, Christmas cards, presents and decorations.

It is a heart-warming tale to share every year in the run up to Christmas, and is full of gorgeous colour illustrations and activities to do together that will become festive family traditions.
---
---
About Alex T. Smith
...
[Read more about Alex T. Smith]
---
Search for another book
---