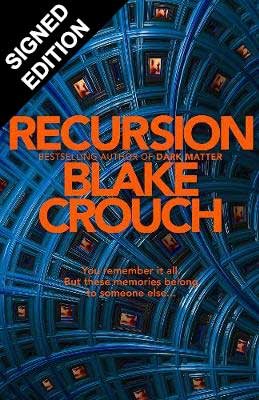 Goodreads says:
Memory makes reality. That's what New York City cop Barry Sutton is learning as he investigates the devastating phenomenon the media has dubbed False Memory Syndrome—a mysterious affliction that drives its victims mad with memories of a life they never lived.Neuroscientist Helena Smith already understands the power of memory. It's why she's dedicated her life to creating a technology that will let us preserve our most precious moments of our pasts. If she succeeds, anyone will be able to re-experience a first kiss, the birth of a child, the final moment with a dying parent. As Barry searches for the truth, he comes face-to-face with an opponent more terrifying than any disease—a force that attacks not just our minds but the very fabric of the past. And as its effects begin to unmake the world as we know it, only he and Helena, working together, will stand a chance at defeating it.But how can they make a stand when reality itself is shifting and crumbling all around them?
Waterstones says:
Signed Edition

A breath-taking exploration of memory and what it means to be human, Recursion is the follow-up novel to the smash-hit thriller, Dark Matter, by Blake Crouch.

What if someone could rewrite your entire life?

'My son has been erased.'

Those are the last words the woman tells Barry Sutton before she leaps from the Manhattan rooftop.

Deeply unnerved, Barry begins to investigate her death only to learn that this wasn't an isolated case. All across the country, people are waking up to lives different from the ones they fell asleep to. Are they suffering from False Memory Syndrome, a mysterious, new disease that afflicts people with vivid memories of a life they never lived? Or is something far more sinister behind the fracturing of reality all around him?

Miles away, neuroscientist Helena Smith is developing a technology that allows us to preserve our most intense memories and relive them. If she succeeds, anyone will be able to re-experience a first kiss or the birth of a child.

Barry's search for the truth leads him on an impossible, astonishing journey as he discovers that Helena's work has yielded a terrifying gift . . .
---
---
About Blake Crouch
Blake Crouch is a bestselling novelist and screenwriter. He is the author of the forthcoming novel, Dark Matter, for which he is writing the screenplay for Sony Pictures. His international-bestselling Wayward Pines trilogy was adapted into a television series for FOX, executive produced by M. Night Shyamalan, that was Summer 2015's #1 show. With Chad Hodge, Crouch also created Good Behavior, the TNT television show starring Michelle Dockery based on his Letty Dobesh novellas. He has written mo...
[Read more about Blake Crouch]
---
Search for another book
---