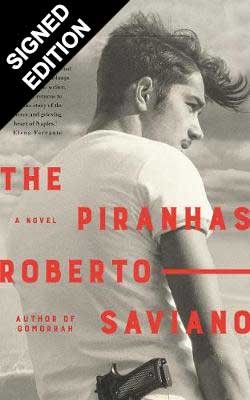 Goodreads says:
Dieci ragazzini in scooter sfrecciano contromano alla conquista di Napoli. Quindicenni dai soprannomi innocui – Maraja, Pesce Moscio, Dentino, Lollipop, Drone –, scarpe firmate, famiglie normali e il nome delle ragazze tatuato sulla pelle. Adolescenti che non hanno domani e nemmeno ci credono. Non temono il carcere né la morte, perché sanno che l'unica possibilità è giocarsi tutto, subito. Sanno che "i soldi li ha chi se li prende". E allora, via, sui motorini, per andare a prenderseli, i soldi, ma soprattutto il potere. La paranza dei bambini narra la controversa ascesa di una paranza – un gruppo di fuoco legato alla Camorra – e del suo capo, il giovane Nicolas Fiorillo. Appollaiati sui tetti della città, imparano a sparare con pistole semiautomatiche e AK-47 mirando alle parabole e alle antenne, poi scendono per le strade a seminare il terrore in sella ai loro scooter. A poco a poco ottengono il controllo dei quartieri, sottraendoli alle paranze avversarie, stringendo alleanze con vecchi boss in declino.Paranza è nome che viene dal mare, nome di barche che vanno a caccia di pesci da ingannare con la luce. E come nella pesca a strascico la paranza va a pescare persone da ammazzare. Qui si racconta di ragazzini guizzanti di vita come pesci, di adolescenze "ingannate dalla luce", e di morti che producono morti.Roberto Saviano entra implacabile nella realtà che ha sempre indagato e ci immerge nell'autenticità di storie immaginate con uno straordinario romanzo di innocenza e sopraffazione. Crudo, violento, senza scampo.
Waterstones says:
Signed Edition

In Naples, a new kind of gang rules the streets: the 'Paranze', the 'Children's Gangs', groups of teenage boys who divide their time between Facebook or playing Call of Duty on their PlayStations and patrolling the streets armed with pistols and AK-47s, terrorizing local residents in order to mark out the territories of their Mafia bosses.

Roberto Saviano's eye-opening novel The Piranhas tells the story of the rise of one such gang and its leader, Nicolas - known to his friends and enemies as the `Maharajah'. But Nicolas's ambitions reach far beyond doing other men's bidding: he wants to be the one giving orders, calling the shots, and ruling the city. But the violence he is accustomed to wielding and witnessing soon spirals out of his control...
---
---
About Roberto Saviano
Roberto Saviano is an Italian writer and journalist.

In his writings, articles and books he employs prose and news-reporting style to narrate the story of the Camorra (a powerful Neapolitan mafia-like organization), exposing its territory and business connections.

Since 2006, following the publication of his bestselling book Gomorrah (Gomorra in Italian), where he describes the clandestine particulars of the Camorra business, Saviano has been threatened by several Neapolita...
[Read more about Roberto Saviano]
---
Search for another book
---