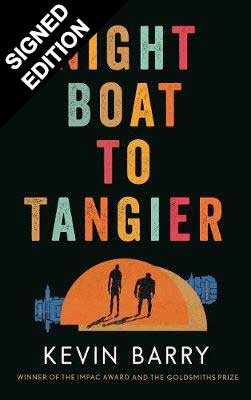 Goodreads says:
In the dark waiting room of the ferry terminal in the sketchy Spanish port of Algeciras, two aging Irishmen — Maurice Hearne and Charlie Redmond, longtime partners in the lucrative and dangerous enterprise of smuggling drugs — sit at night, none too patiently. It is October 23, 2018, and they are expecting Maurice's estranged daughter (or is she?), Dilly, to either arrive on a boat coming from Tangier or depart on one heading there. This nocturnal vigil will initiate an extraordinary journey back in time to excavate their shared history of violence, romance, mutual betrayals and serial exiles, rendered with the dark humor and the hardboiled Hibernian lyricism that have made Kevin Barry one of the most striking and admired fiction writers at work today.
Waterstones says:
It's late one night at the Spanish port of Algeciras and two fading Irish gangsters are waiting on the boat from Tangier. A lover has been lost, a daughter has gone missing, their world has come asunder - can it be put together again? Night Boat to Tangier is a novel drenched in sex and death and narcotics, in sudden violence and old magic, but it is obsessed, above all, with the mysteries of love.

A tragicomic masterwork from a multi-award-winning writer, Night Boat to Tangier is both mordant and hilarious, lyrical yet laden with menace.
---
---
Search for another book
---