The Bear and the Nightingale (Winternight Trilogy, #1)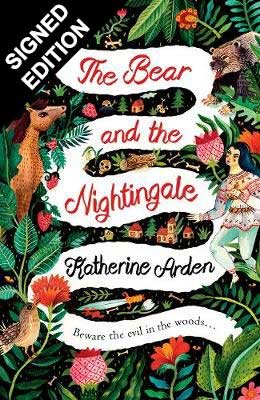 Goodreads says:
Winter lasts most of the year at the edge of the Russian wilderness, and in the long nights, Vasilisa and her siblings love to gather by the fire to listen to their nurse's fairy tales. Above all, Vasya loves the story of Frost, the blue-eyed winter demon. Wise Russians fear him, for he claims unwary souls, and they honor the spirits that protect their homes from evil.Then Vasya's widowed father brings home a new wife from Moscow. Fiercely devout, Vasya's stepmother forbids her family from honoring their household spirits, but Vasya fears what this may bring. And indeed, misfortune begins to stalk the village. As its defenses weaken and evil from the forest creeps nearer, Vasilisa must call upon dangerous gifts she has long concealed.
Waterstones says:
Frost-demons have no interest in mortal girls wed to mortal men. In the stories, they only come for the wild maiden.

In a village at the edge of the wilderness of northern Russia, where the winds blow cold and the snow falls many months of the year, an elderly servant tells stories of sorcery, folklore and the Winter King to the children of the family, tales of old magic frowned upon by the church.

But for the young, wild Vasya these are far more than just stories. She alone can see the house spirits that guard her home, and sense the growing forces of dark magic in the woods...

Atmospheric and enchanting, with an engrossing adventure at its core, The Bear and the Nightingale is perfect for readers of Naomi Novik's Uprooted, Erin Morgenstern's The Night Circus, and Neil Gaiman.
---
---
About Katherine Arden
A note to everyone who trips and falls upon my Goodreads page. First, welcome. Let us read and discuss all the books together. Second, Goodreads is wondrous, but contacting me through my Goodreads DMs is a good way to ensure a long wait for a reply. Your best bet is Twitter or Instagram (arden_katherine) on both.

Happy reading.

Born in Texas, Katherine studied French and Russian at Middlebury College. She has lived abroad in France and in Moscow, among other places. She h...
[Read more about Katherine Arden]
---
Search for another book
---