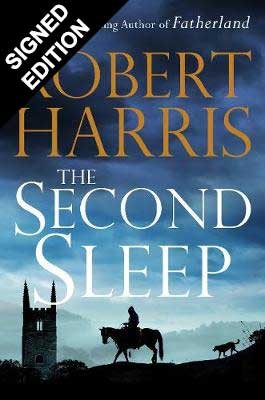 Goodreads says:


______________________

THE NEW THRILLER FROM THE BESTSELLING AUTHOR OF MUNICH, CONCLAVE AND AN OFFICER AND A SPY



Late one afternoon in April in the Year of Our Risen Lord 1468 a solitary traveller was to be observed picking his way on horseback across the wild moorland of that ancient region of south-western England known since Saxon times as Wessex...


Waterstones says:
Signed Edition

1468. A young priest, Christopher Fairfax, arrives in a remote Exmoor village to conduct the funeral of his predecessor. The land around is strewn with ancient artefacts - coins, fragments of glass, human bones - which the old parson used to collect. Did his obsession with the past lead to his death? Fairfax becomes determined to discover the truth. Over the course of the next six days, everything he believes - about himself, his faith and the history of his world - will be tested to destruction.
---
---
About Robert Harris
ROBERT HARRIS is the author of nine best-selling novels: Fatherland, Enigma, Archangel, Pompeii, Imperium, The Ghost Writer, Conspirata, The Fear Index, and An Officer and a Spy. Several of his books have been adapted to film, most recently The Ghost Writer, directed by Roman Polanski. His work has been translated into thirty-seven languages. He lives in the village of Kintbury, England, with his wife, Gill Hornby....
[Read more about Robert Harris]
---
Search for another book
---