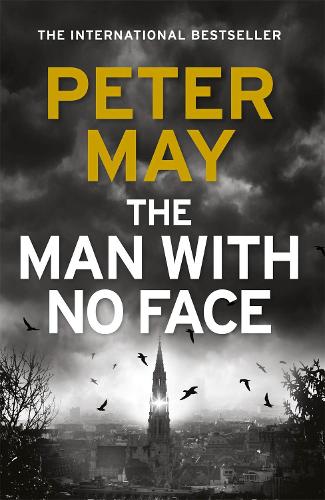 Goodreads says:
There are two men on their way to Brussels from the UK: Neil Bannerman, an iconoclastic journalist for Scotland's Daily Standard whose irate editor wants him out of the way, and Kale--a professional assassin.



A classic early Peter May novel situated among the political intrigue of 1979. Expecting to find only a difficult, dreary political investigation in Belgium, Bannerman has barely settled in when tragedy strikes. His host, a fellow journalist, along with a British Cabinet minister, are discovered dead in the minister's elegant Brussels townhouse. It appears that they have shot each other. But the dead journalist's young autistic daughter, Tania, was hidden in a closet during the killings, and when she draws a chilling picture of a third party--a man with no face--Bannerman suddenly finds himself a reluctant participant in a desperate murder investigation.As the facts slowly begin to emerge under Bannerman's scrutiny, he comes to suspect that the shootings may have a deep and foul link with the rotten politics that brought him to Brussels in the first place. And as Kale threatens to strike again, Bannerman begins to feel a change within himself. His jaded professionalism is transforming into a growing concern for the lonely and frightened Tania, and a strong attraction to a courageous woman named Sally--drawing him out of himself and into the very heart of a profound, cold-blooded, and infinitely dangerous conspiracy. "Peter May is a writer I'd follow to the ends of the earth." --Marilyn Stasio, New York Times
Waterstones says:
Standard Edition: A signed edition is available to order here

A REPORTER WITH NO FEAR

1979. Jaded Edinburgh journalist Neil Bannerman is sent to Europe, intent on digging up dirt. Yet it is danger he discovers, when two British men are found murdered.

A CHILD WITH NO FATHER

One victim is a journalist, the other a Cabinet Minister: the double-assassination witnessed by the former's autistic daughter. This girl recalls every detail about her father's killer - except for one.

THE MAN WITH NO FACE

With those around him rocked by the tragedy, Bannerman is compelled to follow his instincts. He is now fighting to expose a murderous conspiracy, protect a helpless child, and unmask a remorseless killer.
---
---
About Peter May
...
[Read more about Peter May]
---
Search for another book
---